Table Top Electric Kadai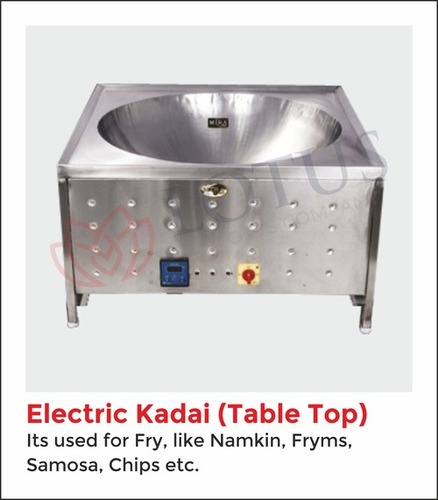 Table Top Electric Kadai
Price And Quantity
Product Specifications
Commercial

Stainless Steel
Product Description
The Spiral Mixer is a powerful and efficient kitchen appliance that takes the effort out of mixing dough. With its unique spiral-shaped agitator and rotating bowl, it kneads and blends dough ingredients to perfection. The machine features a sturdy construction, a high-capacity bowl, and variable speed controls, allowing users to achieve the desired consistency and texture for their dough. It is an essential tool for bakeries, pizzerias, and other food establishments that require large quantities of dough. The Spiral Mixer not only saves time and effort but also ensures consistent and uniform mixing results, leading to high-quality baked goods. Say goodbye to manual dough mixing and hello to effortless dough preparation with the Spiral Mixer.
frequently asked questions:
Q: What is a Spiral Mixer?
A: Spiral Mixer is a kitchen appliance specifically designed for mixing dough. It features a spiral-shaped agitator and a rotating bowl, which work together to knead and blend the dough ingredients.
Q:How does a Spiral Mixer work?
A: The Spiral Mixer typically consists of a rotating bowl and a spiral-shaped agitator. The bowl rotates while the agitator spins in the opposite direction, kneading the dough and blending the ingredients evenly. The machine's variable speed controls allow users to adjust the mixing process according to their specific dough requirements.
Q: What are the benefits of using a Spiral Mixer?
A: Using a Spiral Mixer offers several advantages. It saves time and effort by automating the dough mixing process, especially when dealing with large quantities. The spiral-shaped agitator ensures thorough and consistent mixing, resulting in a uniform dough texture. The machine's powerful motor and sturdy construction can handle heavy dough without strain, providing reliable performance for commercial kitchens.
Q: Can a Spiral Mixer handle different types of dough?
A: Yes, a Spiral Mixer is versatile and can handle various types of dough, including bread dough, pizza dough, pastry dough, and more. The variable speed controls allow for customization to achieve the desired consistency and texture for each dough type.