Onion chopping machine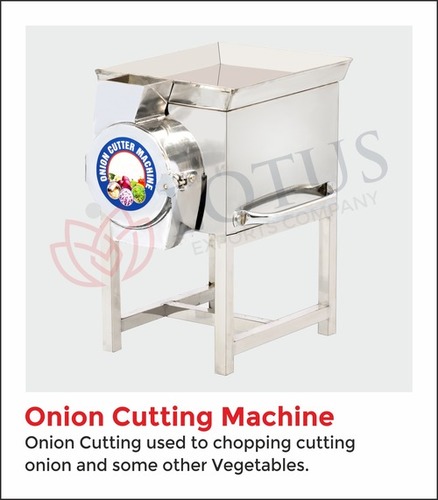 Onion chopping machine
Price And Quantity
Product Specifications
Commercial

Stainless Steel
Product Description
Onion Cutting Machine is a specialized kitchen appliance designed to simplify and expedite the process of cutting onions. It is a time-saving tool for both home cooks and professional chefs.
Frequently asked questions:
Q: What is an Onion Cutting Machine?
A: An Onion Cutting Machine is a kitchen appliance specifically designed to automate and facilitate the process of cutting onions. It uses advanced technology and sharp blades to quickly and efficiently slice, dice, or chop onions, saving time and effort in the kitchen.
Q: How does an Onion Cutting Machine work?
A: An Onion Cutting Machine typically features a feeding tube or chute where onions are inserted. The machine uses a motor-powered mechanism that drives the sharp blades to cut through the onions. Users can adjust the settings to achieve the desired thickness or size of the onion cuts.
Q: What are the benefits of using an Onion Cutting Machine?
A: Using an Onion Cutting Machine offers several advantages. It significantly reduces the time and effort required to manually cut onions, especially when dealing with large quantities. The machine ensures uniform and consistent onion cuts, enhancing the presentation and cooking process. It also minimizes the chances of tears and onion-induced eye irritation.
Q: Can an Onion Cutting Machine cut other vegetables besides onions?
A: While an Onion Cutting Machine is primarily designed for cutting onions, many models can also handle other vegetables and ingredients. Depending on the specific machine, it may be capable of cutting vegetables like tomatoes, potatoes, cucumbers, and more. It's important to check the product specifications to determine its versatility.